Thanks to the summer vibes of the new Harry Styles album, flared jeans and crochet tops coming back into style, and the movie Licorice Pizza reminding us of the good ol' days, the 70's are BACK and this gal couldn't be happier! With this resurgence of 70s nostalgia comes weddings and celebrations that mirror the same! I just shot a wedding that embodied the beauty of a laid back, low key 70's themed wedding without breaking the bank and I think the internet needs to know about it and see how you too can get creative with your 70s themed wedding without spending oodles of money!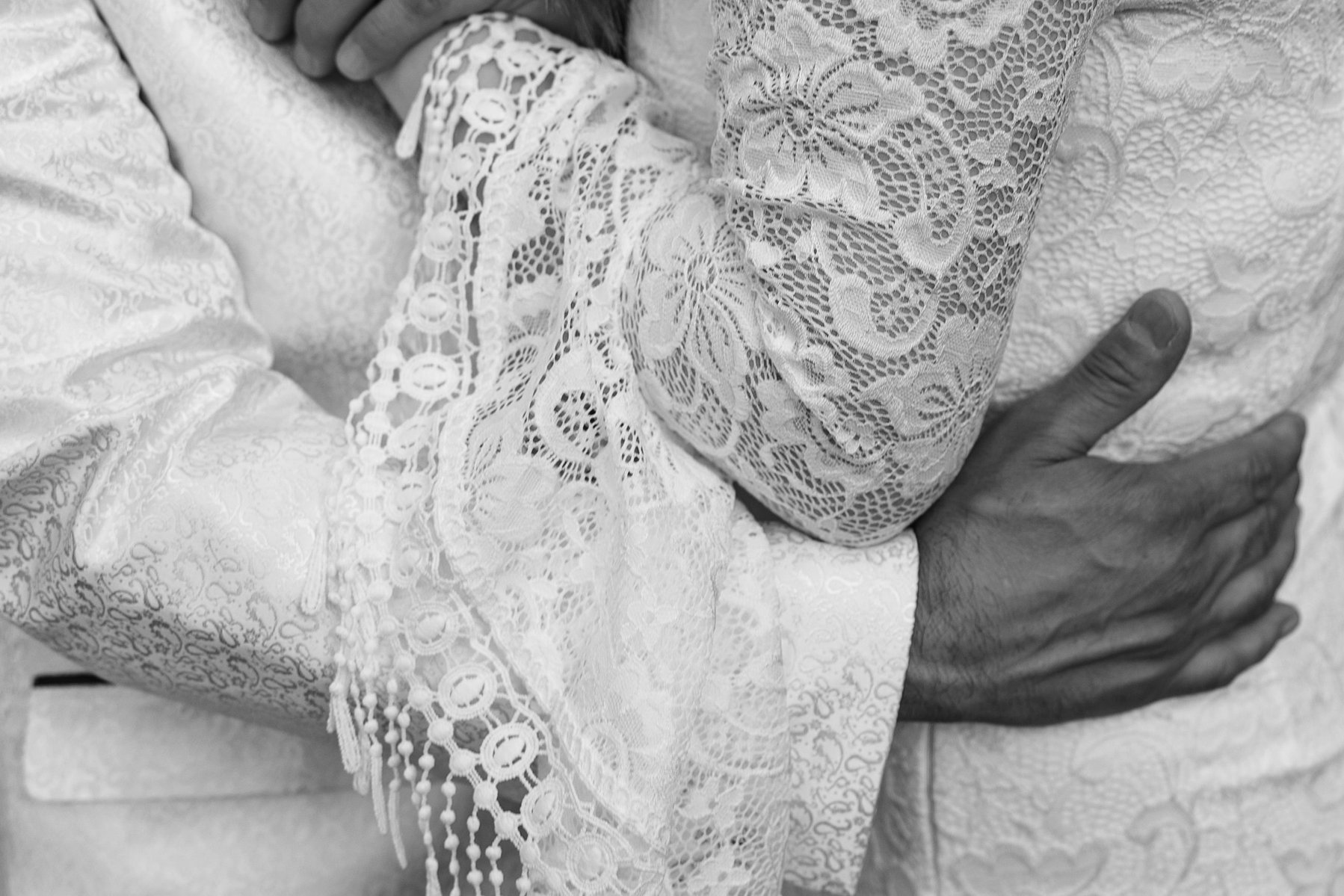 It all started with Sam & Jaime reaching out to me. They liked my style and I loved their humor, love, and warmth that they exuded in our conversation. It turns out, Sam is ALSO a teacher in the same school district as I am, so I couldn't say no. Btw - shameless plug here - if you are a teacher and want family photographs, I give teacher discounts!
Within out first chat conversation, Sam & Jaime said they had planned a 70s themed wedding and wanted that to come through in photos. The couple explained they had a few ideas up their sleeves, but didn't spill all the beans, so I was excited for their day purely because of these decorative surprises!
Flash forward to day of - I showed up that Sam & Jaime's family's Denver condominium, where the community space was our venue for the day, and I was greeted with at patio filled with disco balloons set up on the guest dinner tables and a step and repeat with a Studio 54-esque backdrop, as well as a family member photographing guests with a polaroid for fun memorable photos and take home keepsakes from the day. What a cool way to enter a party and welcome guests!
The disco ball balloons and the Studio 54 backdrop were fun and versatile for the whole day. During the cocktail hour, reception and dinner, the disco ball balloons served as decorations but when it came time for cake cutting, speeches and dancing, the disco balls transitioned to either side of the backdrop and created a new space for Sam & Jaime and their guest to party. So if you are working with an open space and have the ability to move around your decorations, by all means, grab a few people and outline an area with balloons for dancing! It creates a new depth and intentional space for everyone to gather once dinner is over and the party begins.
Using the condominium's green space was also an important part of Sam & Jaime's wedding. They rented a few chairs and set up a little aisle next the community space where reception will be held. This allowed easy movement for all family & friends, as well as a great space for kids to run around and play in as the adults relaxed. They specifically told their guests to dress in 70s themed garb and they did not disappoint! Even their officiant, Sam's brother, showed up in head to toe hippie costume to ensure the guests were INTO it all. Each person who had a part in the wedding were on point with their outfits and really helped to keep the theme cohesive and fun for the wedding party and their guests.
OH! And the arch. I can not STRESS how amazing their ceremony arch was. Not only was it a beautiful yellow and on brand with the small disco balls, it was also an awesome backdrop for the sweetheart table that Sam & Jaime had in the reception. Again, another versatile decoration that can be transformed and transitioned with ease! Something to truly keep in mind for your day if you are trying to keep it more DIY and save that extra cash for something else!
The last thing that really pulled together Sam & Jaime's dream of a 70s wedding were small details scattered about on like center pieces on dinner tables, guest book information and even a crocheted ribbon on Sam's wedding bouquet.
With ALL of that, I highly suggest pulling the following ideas from Sam & Jaime's 70s wedding:
1) Disco Ball & Disco Ball Balloons!
2) Studio 54 Discotech Backdrop
3) Sparkly table clothes, golden goodie bags, golden frames with printed Disco Ball & 70s font

4) White detailed Men's Suit & Crochet wedding dress with fringe
At the end of the day, it's not about how much you spent on your wedding. It's about the time you get to spend celebrating your love with your partner, your family and your friends. Finding fun ways to add flair and versatility is key for creating different spaces in your venue while ensuring you don't go overboard. Follow Sam & Jaime's footsteps and you're guaranteed for an unforgettable 70s wedding.