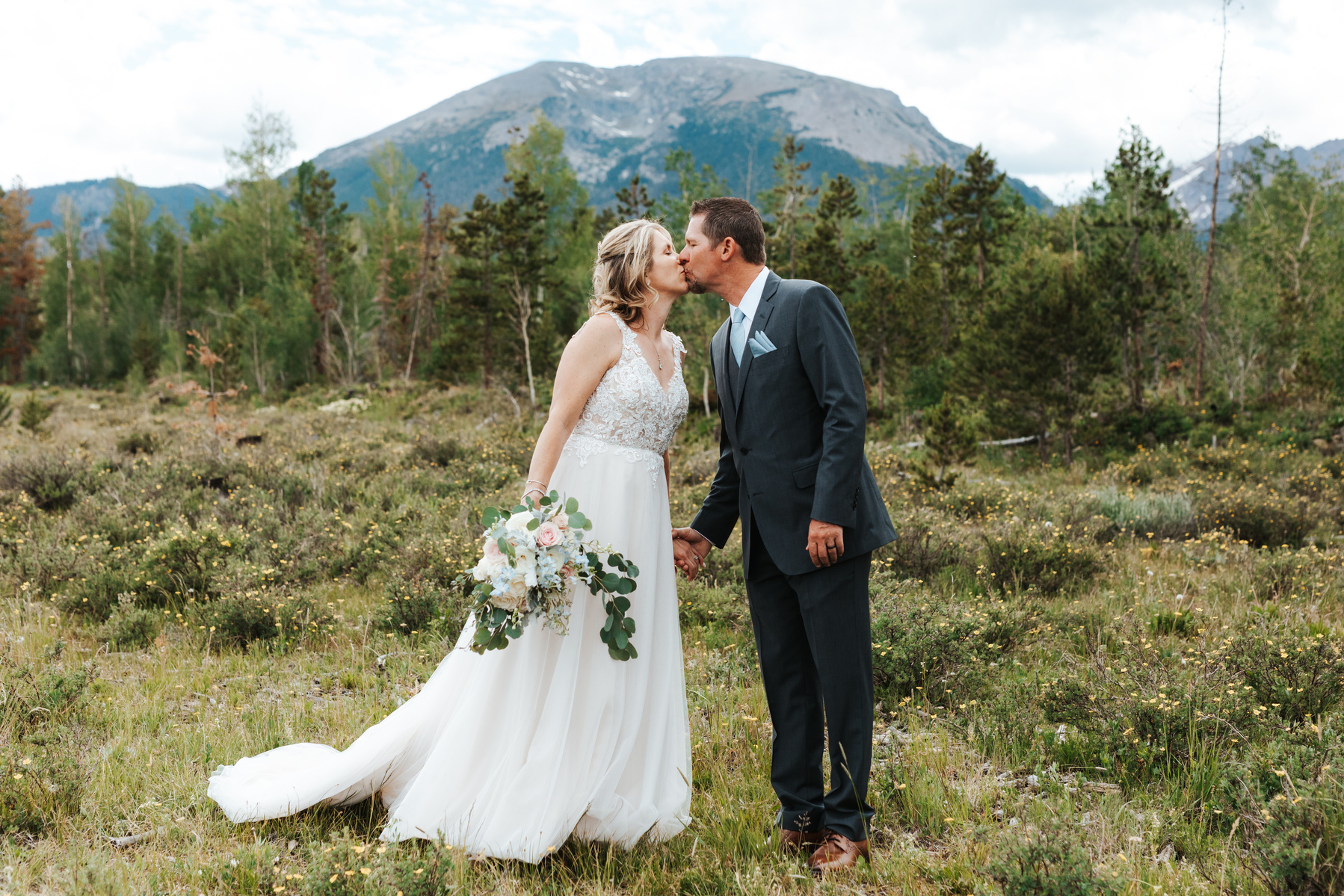 Rich & Billie Jo's gorgeous late June Silverthorne Pavillion wedding in Silverthorne, Colorado (Ute Land) was one for the record books! I'm so honored I was chosen to photograph their beautiful day, filled with family and friends. This is one of my couples that I've felt instant connection with and KNEW we were going to have the best wedding day ever.
Both Rich & Billie Jo are teachers in Colorado, and much like myself, Rich teaches Art! We all bonded over the crazyness 2021 brought as a school year over outdoor coffee and tea at Starbucks, and even set up a time for Rich to take my husband fishing for his birthday (one week before their wedding!) Rich is an EXCELLENT fisherman and fishing guide and you will see why I mention this later in my post! Anyways, needly to say, I was stoked for their wedding day.
When it finally came around I met Bille Jo at her Airbnb just up the hill from the Silverthorne Pavillion, where Billie Jo, her dearest friends and family and step-daughter to be, Julia, all spent the morning getting Billie Jo all set up. We were also lucky to find a gorgeous secret spot to take scenic Summit County mountain photos behind their Airbnb (seriously I want to live in this lil outcove!)
We then headed down to the Pavillion where Billie Jo was whisked away to the bridal suite while I went to find Rich, his son Josh and his all his friends who had finished up their early morning fishing in the Blue River (with a major rainbow trout catch!) and had gotten all dolled up for the ceremony. Julia walked in before me to see her dad, and instantly we all got mushy and teary eyed with their embrace! There's nothing like watching your dad get married to the person they love the most.

From there our ceremony started out in front of the Blue River with Summit County mountain views, the warmth of sunshine, and the beaming love of all who attended. You can tell the laughter and love from their community really help to shape who Rich & Billie Jo are. I'm so honored to have spent time with their families in this moment.

Post ceremony, Rich & Billie Jo wanted to have their own special moment together back at the airbnb, so we took a quick 5 minute drive back up the hill and went to the secret out cove with those scenic mountain views for some couples portraits and I think this is literally the best Summit County mountain view spot I have yet to find!
After the quiet moment, we zipped back down for the reception! Where a memorial table set up near the dance floor allowed for guests to pay respects to those we wished could have joined us, Bille Jo did her Father Daughter dance with all FOUR of her brothers to one song, which again, left us all teary eyed right until the very end where "I like Big Butts" came on and Billie Jo & her brother really got the party started!

And with the last bit of light, Billie Jo & Rich wanted to escape the crowds one last time for some sweet sunset photos near the Blue River. I love the Silverthorne Pavillion because the Blue River is RIGHT off the property and it takes mere seconds to go from shaking your booty to taking in a deep breath of that fresh summer mountain air!

I'm so happy I was able to be apart of Billie Jo & Rich's wedding day and gain some new friends while I was at it! Seriously, if you're considering the Silverthorne Pavillion, we all highly suggest it! The location is easy to get to off of I-70 for those from out of town, it's located nestled between river, small town vibes and mountains, so getting those iconic Summit County shots is more than doable as long as you have a car and getting your fish on is possible on the morning of your wedding! Highly recommended from us here at Simone Schiess Photography!